## Around 2PM PST Everyday (Except Wednesdays) for about 6-8 hours! Also the schedule above is really loose, i just start when i can and go as long as I can.
Hi there! First and foremost i'm a variety streamer, I play what I want to play, when I want to play. There are things like Bit Bmonday (1st monday of the month) and Sub Saturday (last saturday of the month) where chat and subs can decide what I play (and if I enjoyed the game i'll play more of it). I am still a full time streamer! I obviously can't expect you to want to stick around to watch games you don't care about, but I do really appreciate you dropping in and giving a quick word of support. ##Do you have merch? - Used to, but had to close the shop. Currently am looking at new places to start another shop. ##Computer Specs (Important Bits) - Intel i7-6700k - GeForce GTX 1080 8GB - Corsair Vengeance LPX 32GB (2x16GB) 3200MHz DDR4 RAM - Gigabyte Z170X Gaming 5 Mobo - Kraken X62 CPU Cooler ##What Mouse Do You Use? - Logitech G Pro Wireless Mouse ##What about Keyboard? - Ducky One RGB Mechanical Keyboard (Blue Cherry MX) ##Headphones? - Meze 99 Classics: https://www.mezeaudio.com/products/meze-99-classics-walnut-gold-wood-headphones
## Click the panel above to donate! - Donations are considered tips! In other words, no you do not own me if you donate money, you can make requests, but it's not likely I will accept or complete them - Donations are non-refundable! Think carefully before donating! - TTS for Donations and Bits is $0.69 (nice)!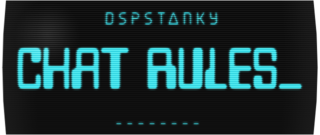 1. Don't be a dick. 2. Any form of hate speech is a quick way to get banned, jokes that cross a line get you a warning and a time out first. Just refer to rule 1 people. 3. Asking for boosts/self-promotion spam/etc will get you timed out and then banned for repeated offenses. 4. I play what I want, when I want and there's really nothing you can do about that (aside from community driven votes and Bit Bmondays) so don't demand I play X game. Mods have full discretion to act as they see fit in accordance to these rules.
##https://twitter.com/dspstanky ##https://www.youtube.com/dspstanky ##https://soundcloud.com/user-806732203