I'm an artist who plays with little plastic beads! Oh, I do other stuff too, sometimes games, sometimes pixel art, sometimes something else!
Hey there folks, I am Vendelo, and I am a variety caster from British Columbia, Canada. I am 34 years old. I like to help folks whenever I can, however I can. If you're having a rough day and need someone to talk to, I'm your guy. I care about the well being of people. Always have, always will. I'm a creative caster primarily. I work with perler beads to make physical pixel art for folks to enjoy! I also do pixel art from time to time, which I create though the program [GIMP](https://www.gimp.org/). The program I use to view my sprites while creating them with perler beads is [Paint.net](https://www.getpaint.net/). Both are fantastic programs AND free to use!! I also enjoy painting miniature models (Warhammer, Warhammer 40k, Warmachine, Hordes, etc) and am looking to incorporate that in to a regular stream time! In terms of games, I don't typically like to be tied down to one game in particular, though one may occupy my time for longer than usual. When I choose a game to play, I prefer to do as full or complete playthrough as possible. I hate to leave a game unfinished. With that said, I tend to lean towards RPG's for the most part. Some platformers, and the rare racing or FPS game. I don't do particularly well with Racing and FPS games, but I'm learning how to play better, and be better in those games!
Wanna know when I'm live? Here you go! + **Monday - ** - **Tuesday - ** - **Wednesday - ** - **Thursday - ** - **Friday - ** - **Saturday - ** - **Sunday - ** Some days I'll go later, it depends on how the day is going or what I'm working on! Check Twitter and/or Discord for any schedule changes!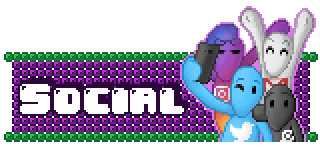 [**Twitter**](https://twitter.com/HeyVendy) - I will do my best to always post 30min before I go live, and when I go live! [**Instagram**](https://www.instagram.com/hey.vendy/) Check out the stuff I've made! I post all my perler creations on there. :D **Discord** Ask and ye shall receive! If I'm live, just type !discord in chat to get the link!
**CURRENTLY CLOSED WITH FEW EXCEPTIONS** Looking to get a custom piece made by yours truly? Feel free to contact me via email OR direct message! + **Email:** vendelo.tv@gmail.com - **Twitter:** @HeyVendy - **Discord:** HeyVendy#9185
**Tips are never required, but always appreciated!!** **Thank you to every person who contributes to help better my channel! You are all amazing! <3** [**Steam Wishlist**](http://steamcommunity.com/id/Vendelo/wishlist/?sort=rank) [**Amazon Wishlist**](https://www.amazon.ca/hz/wishlist/ls/2ELWB1PABMHQ?ref_=wl_share)