Last live 19 hours ago
Imaginative Creature Creator - Storyteller - Performance Poet - Painter - Creator of the epic story MATSU and the creator of the funkyipuppets
Fundraising Campaign for SYMPHONY - a IPC book of poems - sketches - paintings - Matsu graphic novel
Fundraising Campaign Tiers - FOR IPC Book of Poems Stories Paintings and Sketches FIRST TEN BACKERS WILL RECEIVE ONE 5 X 5 ORIGINAL ART. SHIPPING WILL BE 7 IN THE US AND 12 WORLDWIDE *bits are at a rate of 1 cent per bit so to get the first level, you'll need to cheer quite a bit. *since we are doing this independently and from IPC's twitch channel - the tier rewards are ever evolving to adjust to meet our campaign goals - work with us - lets makes some deals and fund this campaign!!!! . Tips would be hugely appreciated because we'll be able to access the funds immediately. Bits take around a couple of months to receive. Note: 1. Shipping cost for the book will be $7 within the US. International shipping costs will be calculated as when so that you'll not be overcharged. All commissions will be shipped first where possible. If you're willing to wait to bundle the commission together with the book, please let marilyncsm know. That would be much appreciated. Creature Campout Creature Campout is designed for those who want to support the campaign but are not able to buy a book. Each person who donate up to $20 will get a ticket for every $5 donated, so a donation of $20 will have 4 tickets. We will have a free book drawing at the end of the campaign. Those who donated 25 and above are not eligible for the raffle. Creature Clan Contributions of $25 will receive a book. Contributions of $50 will receive an original 5" x 5" painting OR commissions for emotes, logo, patches + a book. Should you wish to gift a book to another viewer, please let marilyncsm know and she will record and contact the viewer for shipping details when the time comes. Creature Crew This tier is for creatures that would like to commission any of the listed items - 9" x 12" original art - hand painted mug - custom hats - stream art. All commissions will receive a book plus the commissioned item. Contribution amount will vary according to commission type. Please let us know if you're interested in a commission and we'll make a deal worth your while. :) Creature Champion Creature Champions are the heavy hitters, these are creatures that are interested in commissioning products like backpacks or pouches. These commissions will receive 2 books as part of the campaign drive. Creature Champions will automatically be part of the Creature Council should there still be slots available. Creature Council There will be 5 council slots available for creatures who contributed $250 and above. Slots are first come first serve. Council members will have the privilege of co-producing the content of the book. Creature Champions will automatically enter the council if their commissions come in before the council spots are filled. [ClickToBackCampaign](https://twitch.streamlabs.com/ipaintcreatures)
Symphony Fundraising Campaign Status
[ClickToSeeBackerStatus](https://drive.google.com/file/d/18DsgNBUfki1CUSp2YXH6zwjk6rmzGD6b/view)
*if you all can select GIFT when donating if possible All donations are fully welcomed - are non-refundable and will go into improving the tech of the stream and get me more paint and ink. But most of all it will fuel the creation of a creature epic called Matsu into graphic novel - picture books - and animated films. [ClickToDonate](https://twitch.streamlabs.com/ipaintcreatures) [ClickToSubDirectltochannel3Tiers](https://www.twitch.tv/subs/ipaintcreatures)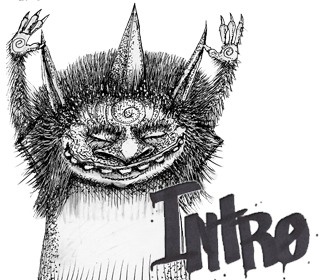 The train has gone past the end of the line Doors open you have arrived somewhere between or beyond Wonderland and Oz between your imagination's backyard and realities front porch A place you are welcome and greeted by a talking mailbox being carried away by a watercolor goblin This is ipaintcreatures stream home of Illustrator, painter, animator, poet and creaturologist - IPaintCreatures Creatures, critters, doodlefolk, characters from the inner universe of the imagination is what I create. You will see traditional art, digital, and animation of creatures... I've always drawn the cat with a huge horn on its head or the monkey with canine ears. The creature critterfolk that exist between what we know and the unknown. It is the treasures and raw materials in our imagination that make up these whimsical creatures. They have always provided my eyes a broad view and a fresh approach when contemplating the trials of this life. The creatures I create bring forth curiosity and wonder, they are imperfectly satisfied and bring forth lots of mischief. Into our world that has lots to worry and feel bad about. They have taken me on a common voyage into a boundless universe providing access to ancient memories and new found connections -Quote from a chat box Troll - "Yo I was going to troll you, but your drawing is actually really dope, so I decided not to...." IPC streams Thursdays and starts around 7:30pm- 9pm PST - 11:30-12 pm to late late PST everyday unless announced on his channel
creature kindness rules!!! please keep chat respectful and relevant to creature art creation.. It's simple - we're here to be creative, chill, and share . - No Negativity, No Politics, No Disrespect to Streamer or Other members of the chat,,,,,, you get banned if you bring forth a bad disrespectful vibe Chat Commands !commission - to get a commission !store - to get IPC art prints !wishlist - IPC's Amazon Wishlist Link !sub - to sub to IPC on Patreon !creature - Info how to get creature in Creaturpedia !cp - Info IPC needs to Create your creature after you have redeemed your creature currrency or after IPC requests it of you. !discord - Creature Hub Server invite !twitter - to tweet that IPC stream is live !poemoclock - to get IPC to read a poem !poemochat - to get IPC to create a poem with the chat !mainstreamer - to get a copy of free ebook twitch creative artists !social - to get all of IPC social medias !info - info about creaturecurrency and how and what to redeem !raid - the epic creature raid call !ipcraid - Sunb Raid Call Idrawalong - to activate a yokai creature drawalong lead by IPC !followage - Tells you how long you ibeen around tghe creature clan !storyoclock - IPC will tell you one of his life stories - MAKE SUREN U REQUESTN AN TOPIC AND ERA !ComicoChat - IPC will create an epic comic panel of his IPC Chronicles Including the chat as characters and authors of comic panel !points - see how many creaturecurrencies you have
Follow, Friend, Like, Share.... [[instagram](http://Instagram.com/ipaintcreatures ) [Ipaintcreatures](ipaintcreatures@gmail.com) [Discord](https://discord.gg/yK2PUD) [Refereum](https://refereum.com/?refid=ipaintcreatures) [Facebook](https://www.facebook.com/ipc.ipaintcreatures.7) [Twitter](https://twitter.com/ipaintcreatures) [Tumblr](http://Ipaintcreatures.tumblr.com) [Pinterest](http://Pinterest.com/ipaintcreatures) [Youtube](https://www.youtube.com/channel/UCJNc6nB1wUbeaHvgrLeRSdg) type !social command in chat for complete social media links
Tech iMac 27 inch Logitech c920 Blue Snowball Mic Wacom Intuos iPad Pro - Apple Pencil Apps Photoshop Illustrator Art Rage Paintstorm Affinity Designer Flash -Animate Procreate Medibang Paint Sketches Pro Animation HD Animatics Flip Pad
Tech iMac 27 inch Logitech c920 Sony HD Cam - Capture Dongle Blue Yeti Mic Wacom Intuos UGHEE drawing Monitor iPad Pro - Apple Pencil Apps Photoshop Illustrator Art Rage Paintstorm rebelle 2 Affinity Designer Clip Paint Studio Pro (desktop and iPad) Procreate Medibang Paint Sketches Pro Animation HD Animatics Fip Pad ———— Art Tools - My mode of transport I love poetry and immediate power of the word to activate the imagination. I create storybook illustrations, paintings and animations in ink, graphite, paint, and digital. I have found each medium brings forth it's own unique creatures. I focus on the use of visual metaphor, symbols and allegory to open all means of communication between the artist, the art and the audience. I try to use most available medium available to us artist now - graphite pencils, color pencils (prismacolor, Lyra, Polychromos - Caran Dache watercolor), pen and ink, brush and liquid inks (FW, Dr. Martins Bombay Inks, Higgins), watercolor (Mission Gold, Kuretake, White Nights) Gouache (Holbein and M Graham), Acrylic, Copic. Kuratake Clean Markers. Golden acrylics - and high flo golden acrylics - Badger and Awatta Eclipse Airbrush - Prismacolor Brush markers - Posca Paint Pens - Pentel Color Brush Pens - …..
[Ipaintcreatures](http://paintcreatures@gmail.com) [Discord](http://Discord.com/ipaintcreatures)
A grand gratitude to these creative streamers. i wouldn't be here creating creatures here on twitch without these great artists... give them a follow! starting with ExplicitLi - who made all the custom type on my panels... [ExplicitLi](http://twitch.tv/explicitLi) [sticky](http://twitch.tv/sticky) [drawing_flies](http://twitch.tv/drawing_flies) [Sliderrails](http://twitch.tv/sliderrails) [Lunityy](http://twitch.tv/luntyy) [Nagisake](http://twitch.tv/nagisake) [Arts_GM](http://twitch.tv/arts_gm) [SuchiKuchi](http://twitch.tv/suchikuchi) thanks to King Nosson for rasta creature overlay [kingnosson](http://twitch.tv/kingnosson) Thanks To Blipsqueektheclown for animated alerts [blipsqueektheclown](https://www.twitch.tv/blipsqueektheclown)
Who are your Influences? The ones who came before me that have showed me the paths, the places, stories and creatures inhabit Dr. Suess, Shel Silverstein, Jim Henson, Matsuo Basho, Issa Kobayashi, Shigeru Mizuki, Buson, Joseph Campbell, George lucas, Akira Akurosawa, Brian Froud, Richard Thompson , Gerald Scarfe, Henrich Kley, Hokusai, Charles Addams, Ray Harryhausen, Hayao Miyasaki Jamie Hewlett, Oscar Martin, Alan Lee, Rick Griffin, Stanley Mouse Why Creatures? I grew up presented by a lot of adverse situations that shaped me. When I discovered that I was actually drawing and telling stories of creatures. I identified as a creature myself. Being a person with very unique social and personal juxtapositions the creation of creatures was a natural. Creatures are an insightful way to look at oneself. They are imperfectly satisfied with themslves and are uniquely different but have very familiar feeling to them. They can let you see a very complex reality, one with many sided problems in a fresh manageable way. Creatures remind us of wonder, of curiosity, the opposite of worry and bad feelings. Think back in your life to all the movies, music, and books that aided you on your life's voyage. I bet most of them have creatures in them that you still remember their spirits, insights and feelings they left you with. Creature Emotions When I was a boy of 10 I spent a lot of time in hospitals. I would draw and write a lot from my imagination because I had no contact with the outside world. I started drawing creatures and telling their stories in short poems. One day a male nurse came to me and told me I should be drawing those creatures for these certain kids (terminally Ill children). I started drawing for them and was moved to draw creatures that were uplifting that provided hope and magic to their existence. To this day that's why I draw creatures that have smile, a smirk, or a look of mischief all for the act of brightening up anyone's day. What is Matsu? At age ten I had a life threatening disease. During this time I spent a lot of time in hospital waiting rooms. I wrote and drew a lot and an epic story started to pour out of me in written and visual form. The day I recovered from my operation I was wheeled into a movie theater on my recovery bed. The movie was Star Wars episode IV. I continued to document this epic tale as I grew up and I eventually was granted the incredible opportunity to work for Lucasfilm LTD. While I was working their I discovered the roots of star wars - the mythological work of Joseph Campbell. Sitting one day in the library of George himself I saw the Genesis of the epic tale and the name came to me Matsu. My art and love of creatures is directly related to this story. It seems everything I create that is creature related if I'm aware of it or not I create the epic tale of Matsu. So the focus on this stream will have the underlying theme of Matsu. Matsu is a story of a boy named Shigin Who goes through a life threatening disease and as he heals and recovers, he discovers he has magical powers and is surrounded by Japanese folklore spirit creatures called Yokai. Matsu is an epic universe based in fantasy and science fiction worlds. It is the voyage to discover the roots of the earth's spirit realms and it's creature roots.