I'm proud to announce that I have been sponsored by ArenaNet. All opinions shared on cast, however, are my own and are not influenced by this sponsorship. If you're interested in Guild Wars 2 and would like to **purchase Path of Fire**, you can check it out [here](http://kamirose.com/gw2)! Buying the game through this link has the added bonus of directly supporting the stream, too! You can also support the stream by signing up for a **Free to Play** account [here](http://kamirose.com/gw2free)! You can also type !gw2 in chat to drop my affiliate link in the chat. **[Purchase Guild Wars 2: Path of Fire here!](http://kamirose.com/gw2)** **[Sign up for a Free to Play account for Guild Wars 2 here!](http://kamirose.com/gw2free)**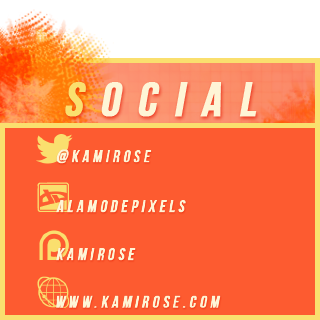 > Thanks for wanting to support my channel! Please know that I will never ask for your money - you just being in my stream is more than enough support! If you really would like to leave me a tip, you may do so in one of the following places: > #Patreon > You can support me on Patreon [here](http://patreon.com/kamirose)! > #Tips > [Streamtip](http://www.streamtip.com/t/kamirose): Tips left here will be acknowledged on stream. An epic sound effect will play when you tip (which will probably scare the shit out of me), and I will read your name and message (unless you request otherwise). > Tips go entirely towards improving the stream, including buying new games, hardware, software, and art supplies. > #Gaming Support > If you are interested in helping provide games to be played on stream, you can find my steam wishlist [here](http://steamcommunity.com/id/kamirose/wishlist/). > To send me a trade with a game, you may do so with [this link](https://steamcommunity.com/tradeoffer/new/?partner=43852211&token=ss0zDdBg). Please note I can't promise I'll play your game on stream!
> #Software > **Streaming:** OBS > **Art:** > > **Animations:** Aseprite v1.0.9 > > **Static images:** Pyxel Edit v0.3.108 (And occasionally Photoshop CS3) > #Hardware > Self-built gaming PC. > **CPU:** Intel i7 4790k > **Motherboard:** MSI z97 Gaming 5 > **RAM:** G. Skill DDR3 16gb (8x2) > **SSD:** Samsung 850 EVO-Series 250 GB > **HDD:** Western Digital Black Series 1tb 7200 RPM > **Graphics Card:** Nvidia GeForce 970 > **Resolution:** 1080p (downscaled in streaming to 720p) > **OS:** Windows 8.1 x64 > **Microphone:** Audio Technica AT 2035 > **Audio Interface:** Scarlett Solo > **Mouse:** Logitech G600 > **Keyboard:** Corsair K70 Cherry MX Brown > **Webcam:** Logitech c920 > **Headphones:** Bose AE2 Around Ear Headphones > **Art Tablet:** Wacom Intuos Pen & Touch (medium).
> # What does your name mean? > > My name means "paper rose." The word "kami" has various meanings in Japanese based on the kanji used. > > The kanji in my name is 紙, meaning "paper." You might be familiar with 神, which means "god" or "divine" (e.g. kamikaze). There's also 髪, which means "hair!" > # What games do you play? > > I play whatever game I'm obsessed with at the moment. > # How long have you done pixel art? > > I've been doing pixel art for around 10 years now. Time sure flies! > # Where do you live / What time zone are you in? > > I live in California, so my time zone is PST. > # What did you do in Japan? > > I used to work in Fukushima, Japan as an ALT (assistant language teacher) at elementary and middle schools. I lived there for 3 years, and moved home in August 2016. > # Do you speak Japanese? > > Yeah, at an upper intermediate level (although my reading is really crappy!).